In early July, Hendricks Chapel enjoyed a very special phone call. Syracuse alumni Dr. Hugh '48 and Zola Fulmer '50 were preparing for the 70th anniversary of their wedding ceremony at Hendricks Chapel. Hugh and Zola's story unfolded over a series of conversations with chapel staff and represents the best of #OrangeLove stories.
In 1947 as undergraduates, Hugh and Zola, whose families hailed from Syracuse, spent most of their time on campus during the school year and then headed to their cottages in the Thousand Islands for the summer. Zola Jones was studying home economics while Hugh was working toward a degree in cultural anthropology.
While they were both in the Thousand Islands for the summer, Hugh noticed Zola, who was waiting at a local hotel. He thought she was the most beautiful girl he had ever seen. However, in the style of the times, Hugh waited patiently until the following summer vacation to express his interest.
Hugh's plan for a date had to be done just right in order to be respectful. He contacted Millie Lou, the waiting supervisor, and asked if she could arrange a date with Zola Jones to a big upcoming dance on Wellesley Island. Millie Lou told him that she could try to make this very important connection.
But, on the night of the dance, Hugh discovered that Millie Lou had set him up with another girl. Zola had apparently already been spoken for and was attending the dance with someone else. Hugh saw Zola from across the room and remembered, "She was so close, yet so far away."
Thankfully, Hugh, now 94 years old, persisted. Upon returning to Syracuse the following semester, he climbed on the bus and immediately noticed Zola sitting next to an elderly woman. Hugh impatiently waited, hopeful, until the older woman got off the bus and he thoughtfully moved to the seat behind her. He cleverly asked, "Aren't you one of the Jones girls?"
Zola, who often modeled for Syracuse publications and local pharmacy ads, responded even more cleverly, "Aren't you Hugh Fulmer?" It would seem this story would wrap up rather quickly after this obvious love-at-first-sight moment. However, it required an artful pursuit of Hugh making seven phone calls over a period of four months before Zola could find time for a first date with him.
On their first date, Zola wore a red dress. Hugh says, "She was a knockout. It just blew me away." Their daughter, Kim, still has her mother's first date dress. After that one occasion, they were "going steady" and eventually started planning their wedding.
Zola happened to be in home economics classes with Ann Noble, daughter of Hendricks Chapel's Dean Charles Noble, who was also dating George Fulmer, Hugh's older brother. As they planned their wedding, they realized they should be married in Hendricks Chapel. On July 12, 1952, their families and friends came together to celebrate Hugh and Zola as they exchanged vows at the spiritual heart of Syracuse University.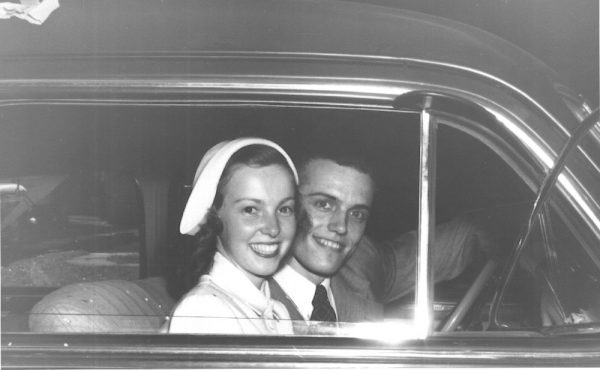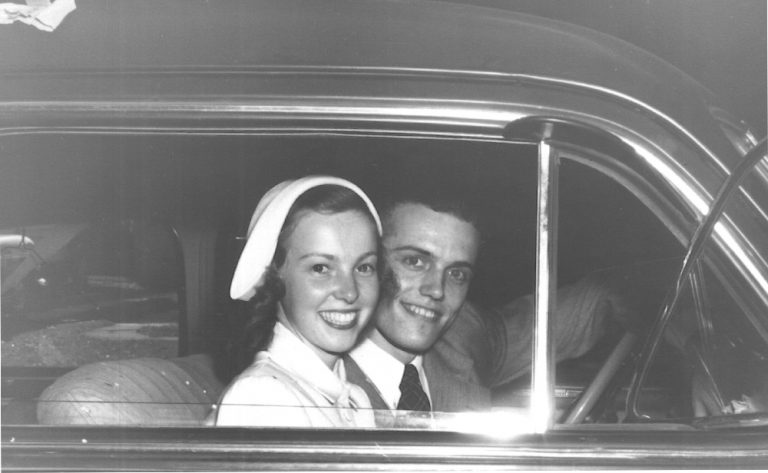 Zola went on to become a home economics teacher while Hugh finished his medical internship. Hugh came from a long line of Syracuse Medical University graduates. His grandfather, Dr. George Price graduated in 1888. His father, Herbert Clifford Fulmer, graduated as a general practitioner in 1917 and also served as editor of The Daily Orange. Hugh's brother, Dr. George Price Fulmer graduated from Syracuse Medical University just before him. Hugh was disappointed when SUNY Upstate Medical University took over Syracuse University's medical school, making him a graduate of SUNY Upstate, yet he continued with his career, building an impressive resume in his decades of experience.
After graduating from medical school, Dr. Fulmer was drafted for the Korean War. He enrolled in the Air Force as a general medical officer and was further trained as a flight surgeon who cared for flying personnel families in Maine.
After the war, Hugh and Zola moved their children to Arizona to treat tuberculosis patients in the Navajo Nation through the Many Farms Navajo-Cornell Field Health Research Project.
They stayed in Arizona for a couple of years before Hugh returned to school, receiving a masters of public health degree from Harvard University. Hugh's dedication to public health and medicine, combined with his roots in cultural anthropology, led him and his family to Malaysia when he joined the US Peace Corps.
Later, from 1960-68, Dr. Fulmer was a professor at the University of Kentucky's new medical school, where he founded the first Department of Community Medicine in the country. dr Fulmer worked at the University of Massachusetts Medical School until 1983 and then concluded his last official medical position as executive director for the Center for Community Responsive Care in 2015.
Hugh and Zola, who are both 94 years old, currently live in their family cottage on Wellesley Island in the Thousand Islands. Their children and grandchildren visit frequently from across the United States.
"To learn about Hugh and Zola is an important reminder that our Syracuse University campus community is filled with remarkable people. Whether it is marriage, military service, public health or home economics, those who faithfully contribute to something larger than themselves truly do lead in service to our common good," says Rev. Brian Konkol, dean of Hendricks Chapel. "We are honored that Hugh and Zola chose Hendricks Chapel for their wedding, and grateful that they continue to shape the story of Syracuse University."
For more information on Hendricks Chapel, including weddings, visit chapel.syracuse.edu.