By John Curley
Seeing Double are a five-piece band that formed in 2021 and are comprised of students at SUNY Oneonta in Upstate New York. The band, which includes vocalist and bassist Allie Sandt, vocalist Ali McQueeney, guitarist Zach Torncello, guitarist Mike Aaron and drummer Dylan Travison, had quite a remarkable year in 2022. They performed many live shows, released three singles, and had their debut single, "Leah," streamed over two million times. In this Q&A, the band discuss their thoughts on the events of the last year, what they have in store for this year as well as other topics.
GOLDMINE: Could each of you discuss your role in the band?
ALLIE SANDT: On stage I play bass and sing lead for Seeing Double, sometimes switching with Mike or Zach to play guitar for a tune or two. But I think one of my favorite roles of being in the band is writing songs and producing them which has been a total learning curve since the beginning of Seeing Double for me. While I had previously recorded some GarageBand demos in high school, I am proud to say a lot of hard work went into learning the ins and outs of production, although working with talented musicians makes that job easier! Watching "Bygones" come together was one of the most rewarding things of the past year and a lot of hours went into the writing and production of the track. By the time we were ready to send it off for mixing, the song had some forty tracks which is way more than "Take It Or Leave It" or "Leah". A great quote I read that helped me through tedious points in production was Paul Simon's "The ear goes to the irritant," which means spending the extra hours to get something sounding just right is always worth the effort.
ZACH TORNCELLO: My role in the band is Guitar! Mike and I do our best to have two awesome tones on each side that fill up space and lay down the progression. We always change who does chordial work and who plays melodically, and we all help try and come up with song ideas and riffs. I also will sing backup vocals if a song calls for a third or fourth harmony. I also deal with the banking for the band.
ALI MCQUEENEY: My role in the band is harmonies and percussive instruments like tambourine and vibraslap. Allie is amazing at coming up with beautiful harmonies and is a great teacher as well! The tambourine adds extra sounds and fills up the space on stage, and it also gives me something to do with my hands! The vibraslap has only been used in "Bygones" thus far, but I can imagine we will find a way to use it in another way!
MIKE AARON: I am also a guitarist in Seeing Double. As Zach stated, we do not tend to go into a new song with the mindset of "rhythm and lead" playing, instead focusing on serving the structure and vocal melodies as well as filling the space when needed. Other than guitar, I am the booking agent for the band.
DYLAN TRAVISON: I'm the drummer in Seeing Double. I'm in charge of just making sure our songs have that nice feel and backbeat that listeners want whenever they hear our music, however, I always try to make my parts as unique and interesting as possible without taking away from the main parts of the song like the melody and guitars. I try not to overplay, but I do like to add some flourishes and interesting fills whenever the song allows it.
GOLDMINE: This has been quite a year for the band. What was the band highlight of 2022 for each of you?
ALLIE SANDT: I think my band highlight of 2022 was when our song "Leah" started to gain some attention on TikTok back in February/March. It was so cool to see how people connected with the song – people we didn't even know! The response was so kind and made us all the more excited to play live shows over the summer in some major cities.
ZACH TORNCELLO: Getting played on British radio in February!
ALI MCQUEENEY: Playing at The Bitter End in New York City was an incredible experience. When we walked out on stage for the first time, it was insane to see so many familiar faces of friends and family, but also the faces of people who connected with "Leah" and "Don't Wait."
MIKE AARON: Seconding Zach, getting played on Radio X was definitely my highlight.
DYLAN TRAVISON: My favorite memory was when we played at The Mercury Lounge. We were able to play that show with some other fantastic bands such as The Darling Suns, and the crowd, venue and that show in general was just one of my favorite ones by far.
GOLDMINE: Was there a live performance in 2022 that stands out for each of you? If so, where and when was it? And why was that show special to you?
ALLIE SANDT: This is hard to narrow down! My live show highlight has to be our entire experience surrounding The Bitter End in New York City over the summer. When ticket sales began, we were shocked to find out we sold out in twelve hours and then added a second set to the same night. Saturday, June 4th, I walked onstage a little intimidated (but ecstatic!) at the thought of so many of my favorite performers that had played there… Joni Mitchell, Neil Young… The crowd was wonderful and so many of our friends and family came out which eased the nerves too! It was also a big deal for me because it was my first ever show in New York City. Growing up so close to Manhattan and waiting for that chance made the first gig there unforgettable.
ZACH TORNCELLO: My favorite live performance this year was our Syracuse show at the Garden! It was our second time back and the crowd was twice as welcoming from the first time which was shocking as the first time was really awesome.
ALI MCQUEENEY: One of my favorite performances was also the Garden in Syracuse. Both times we played there were so fun and energetic, but the first time definitely sticks in my memory. There is nothing like a sweaty basement show with college kids packed tightly enjoying music together!
MIKE AARON: The Mercury Lounge was my favorite live performance of 2022. Not only did the band sound super tight that night, but it was an honor to play at such a prominent club. So many of my favorite New York groups like The Strokes and the Yeah Yeah Yeahs got their start there!
DYLAN TRAVISON: I'm going to have to agree with Mike on this one. As I said before that show was fantastic and I felt very comfortable and welcomed by the crowd. Everyone was just happy to be there and looking to have a great night and I could feel that on stage.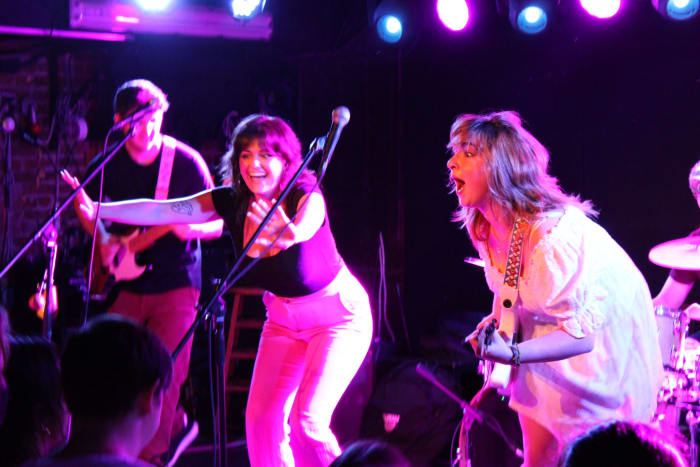 GOLDMINE: How did the band first come together?
ALLIE SANDT: The band started at SUNY Oneonta in Spring of 2021 when we were freshmen. Only 500-something students had returned due to an all-online classes' semester, so those that had made the trip to school were cooped up inside on Zoom. As a way to beat the boredom, I called up Mike (who I only sort of knew) and asked him to play guitar for a cover band that would also play a few of my original tunes. From there, I called Nick, our first drummer who I knew through an online class, and Ali and Zach reached out online after I put up an ad on Instagram. The band was very casual and supposed to be for just one show that I had already booked in advance. We learned an hour-long set and after playing that show, we definitely wanted to continue the following Fall semester. I think we solidified as group quickly because we had a lot of free time to practice (pretty much every day) and get to know each other as people. It was a great time!
GOLDMINE: What is the musical background of each of you? Were you a member of your school's band and/or chorus when you were growing up?
ALLIE SANDT: I started writing in sixth grade or so when I first picked up the guitar but didn't take it more seriously until sophomore year of high school when I started playing at open mics and writing for a band I was in back then. Throughout school, I was always in choir and band but doing my own stuff with friends was the most exciting. I picked up bass in 2020 during quarantine which is what I play for Seeing Double now. I learned bass and guitar without using a pick, so I don't really grab one now. It's funny because during gigs if I give the bass to Mike, we have to adjust the volume accordingly because he's a pick-guy and it's a lot louder.
ZACH TORNCELLO: I played saxophone from fifth grade until I graduated from high school. I did not start learning guitar until I was about 12 and played in a band in high school.
ALI MCQUEENEY: My musical background has always been more of a hobby than a career, unlike the rest of the band. I have always been singing around the house and with my mom, but never really ventured into doing musical activities seriously until the band started! I had played saxophone in my middle-school band and did a summer rock camp a few times, but nothing really stuck. The band has become a great learning experience for me, as well as a chance to see a different side of myself. This is the first band I have ever been in as well, which makes this whole experience very special.
MIKE AARON: I started playing guitar when I was in middle school and picked up bass somewhere along the way. I played in a handful of different rock and punk bands in high school as well.
DYLAN TRAVISON: I started playing music in fourth grade when I joined my elementary school's orchestra as a cellist. I played only the cello until the summer before my freshman year of high school, when I started taking drum set lessons. I still played the cello in school, but I immediately fell in love with the drums and started taking it very seriously when I joined the School of Rock in Albany, New York. There I was able to start a few bands with my friends, and I've been playing shows regularly ever since.
GOLDMINE: The band is on Facebook, Instagram, TikTok and Twitter. How important has social media been in spreading the word about the band? Are you hearing from fans based in other countries?
ZACH TORNCELLO: We get occasional DMs from fans in the British Isles asking us to come play, but not too many.
ALLIE SANDT: Social media has been the number one way for us to get our music out there! If it weren't for "Leah" getting some attention on TikTok, we wouldn't have had the opportunities to play all those live shows over the summer or have a really supportive fan base.
GOLDMINE: The band has released three singles this year – "Leah"/Don't Wait," "Take It or Leave It" and "Bygones." What are your recording plans for 2023? Is there an EP or LP being planned?
ZACH TORNCELLO: For 2023 we want to keep our releases more consistent, so an EP is unlikely. We have really enjoyed being able to take our time with each song so trying to speed up the process of producing a single is our goal.
ALLIE SANDT: We will continue to release singles for the foreseeable future, but I wouldn't be against an EP!
GOLDMINE: When the English DJ John Kennedy played "Leah" on his X-Posure show on Radio X London in February of last year, he favorably compared the song to Rumours-era Fleetwood Mac and The Bangles. What did that comparison mean to the band?
ZACH TORNCELLO: The comparison was really one of the biggest compliments we have gotten in my opinion, and something that has been cool to compare to our newer songs.
ALLIE SANDT: "Leah" came together during a huge Fleetwood Mac phase for me, so getting this kind of feedback was a wonderful compliment. Hearing our tune on the radio in general was a moment to remember!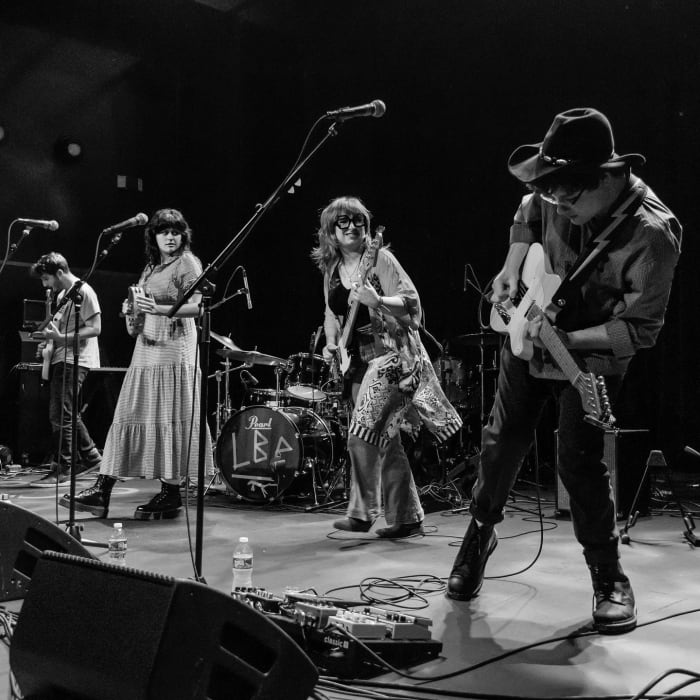 GOLDMINE: "Leah" has had over two million streams, an extraordinary number for the first single by a new band. What did it mean to the band when the stream total passed the two million mark?
ALLIE SANDT: I think it was such a big moment for us because it really felt like a band milestone and a result of all the hard work we put into playing gigs three times a week with classes and all that time locked up in the studio. It was super surreal but also added a lot of pressure if I'm being honest. Since then, it's been a balance of promoting "Leah" but also making sure we aren't exclusively the "Leah band". We are so grateful to all of the listeners, and everyone that has reached out with a message or comment about the song has been so kind.
ZACH TORNCELLO: For the longest time it didn't feel real because you're just looking at numbers on your screen, but once we started getting recognized around places we would go, it started to become reality and that was such a rush and it means a lot.
ALI MCQUEENEY: It was so surreal for it to pass two million, let alone 100 listens. Since we are just five kids from Oneonta, New York, I didn't know how our music was going to reach people the way it did!
GOLDMINE: Do each of you have a favorite artist or band? If so, who are they? And what makes them your favorite?
ALLIE SANDT: If you've met me, I have probably told you in the first five minutes about Madison Cunningham. She is a guitarist/singer/songwriter from Los Angeles that is known for singing over really tricky guitar lines and odd time signatures. I am a massive fan and her concert this past fall was the best I've ever been to! I think she's making waves because she is a total triple threat in lyrics, musicianship and her voice.
ALI MCQUEENEY: My favorite artists at the moment are Phoebe Bridgers and The Beths. Phoebe's lyricism strikes me in a way that no other artist has been able to do. I also found her music at a pivotal time in my life and her music has been so influential. The Beths are a band from New Zealand, and they are growing as a band rapidly! Their music is upbeat, but the lyrics are heartfelt and truthful. They have become my favorite band in less than a year of listening to them!
MIKE AARON: It would be hard to pin down just one favorite band, but I'd say a few that were the most influential to my musical upbringing would be The Strokes, Paramore, Kings of Leon and Weezer.
DYLAN TRAVISON: I don't have a favorite band because there are just too many awesome groups to narrow it down to one. However, a few of my favorite bands are Vulfpeck, The Red Hot Chilli Peppers, Steely Dan and Hippo Campus.
GOLDMINE: Have you had the opportunity to meet any of your musical heroes? If so, who are they?
ZACH TORNCELLO: Unfortunately, most of my musical idols are long passed or live on the West Coast so I have not met any of my heroes.
ALI MCQUEENEY: In 2017, I got to meet my favorite artist at the time, Halsey! She was a delight to talk to and put on an amazing show as well. She has always been one of my favorite artists and will always hold a special place in my heart.
MIKE AARON: I was able to meet Frank Iero, the guitarist of My Chemical Romance, a few years ago while I was interning at a recording studio. Didn't seem real at the moment!
GOLDMINE: What new music are you listening to at the moment?
ALLIE SANDT: I just discovered this artist Ginger Root who came out with a fantastic EP in 2022 called Nisemono. It kind of sounds like Tame Impala, Mac Demarco and the Kirby video-game soundtrack all in one. I have had it on repeat since hearing it for the first time!
ZACH TORNCELLO: A few of my other band mates are fans of The 1975 so I have just recently started listening to them. As a mostly rock fan, I really like the pop-ish twist they have on their music.
ALI MCQUEENEY: My new favorite band, The Beths, put out an album in September 2022 and it has been on repeat since!
MIKE AARON: I've been listening to a lot of Alvvays lately. Their new record Blue Rev is such a refreshing, beautiful take on shoegaze.
DYLAN TRAVISON: I just stumbled upon Greg Spero's Tiny Room Sessions that he did in June/July 2022 and I can't get enough of them. Aside from that, a friend of mine sent me this album called Rare Pleasure by Mndsgn. It's a really interesting album.
GOLDMINE: What other bands in your region would you recommend that Goldmine's readers check out?
ALLIE SANDT: Definitely check out Rib & The Bones, another Oneonta band that has some great original music in the works. They are friends of ours and really talented.
ZACH TORNCELLO: If there are any metal fans, our friends in Brotality are seriously tight.
GOLDMINE: You will be playing five shows opening for the band The Q-Tip Bandits in January and February, including a February 3rd show at Mercury Lounge in New York City. How did getting booked for that mini tour come about?
MIKE AARON: Their agent reached out to us and offered us the direct support slot for those shows. I went to Spotify to check them out and really enjoyed their sound and vibe. I knew it was an opportunity we couldn't pass up.
GOLDMINE: What else are you planning for live shows in 2023? Are there plans to undertake a tour in the summer?
MIKE AARON: As far as the next few months go, there will still be some scattered shows here and there and over spring break, but we want to take it easy and write and record new music as well. In terms of summer touring, we're going to try to do something a bit more extensive than last summer. I cannot comment on specifics, but we've already begun planning and routing for our first leg!
GOLDMINE: All of the band members attend school together in Upstate New York, which is a bonus when it comes to rehearsing, gigging and recording. Have you had discussions about what will happen when you all graduate?
ALLIE SANDT: Being together at school has definitely made that aspect of being a band easier on us – if we want to practice, we just walk down the street to meet up. But after graduation, there's no plan set in stone. While we have talked in the past about relocating or trying to continue playing regularly, our hometowns are pretty distant from one another and individually we all have different avenues of what we may want to do with music (or teaching in Ali's case). We'll probably talk more about it when we start our senior year this Fall.
ZACH TORNCELLO: At the end of every semester, we take a break for a few days and then check in with each other to make sure everyone's heart is still in it, and we all want the same things. Sometimes we need to talk it out because we want what's best for everyone.
ALI MCQUEENEY: Being the only member in Seeing Double who is not a music industry major (I'm early childhood education), my path looks a little different than the rest of the band, but I am always down for the ride that this experience is! I'm taking my future one step at a time and going with the flow, and that's seeming to work!
DYLAN TRAVISON: Although we're all juniors in college, graduation still seems really far away and if there's anything this past year has taught me it's that your whole life can change in just a couple short weeks. Currently we have no concrete plans for after graduation, but for now we're all focused on trying to ensure the band is continuing because we're having fun with it, and we genuinely want to keep playing together.
GOLDMINE: Has it been difficult to juggle the band obligations, your studies and any jobs that each of you have?
ALLIE SANDT: This has been the most difficult part of the past two years so far – between my classes and school ensembles, working while I'm home, and pursuing my other original stuff, it has been a real challenge to give everything equal amounts of attention without getting burned out. I am still learning how to navigate all of this gracefully, but I think pushing through to accomplish all three has been super rewarding.
ZACH TORNCELLO: There has always been the time-management problem, but I find that we have been looking for more and more ways to manage. The biggest obstacle is being a full-time student and us not all having our free time align to meet and practice or write. It's difficult but we do well, I think.
MIKE AARON: I think the greatest challenge is aligning schedules. We make it work, but it can be a struggle to find a few hours a week to get together and practice or write.
ALI MCQUEENEY: Since my studies are different from the rest, my schedule is a bit conflicting with everyone's, but we always find time to make it work.
DYLAN TRAVISON: It is pretty hard, I'm in a couple other bands on top of Seeing Double and trying to balance school, work, relationships and music gets very hectic but it's worth it in the long run.
GOLDMINE: Could you walk us through the band's songwriting process?
ALLIE SANDT: For our songs that are out now, I have brought in an acoustic demo with lyrics and some musical ideas to band practice and everyone has experimented with writing different parts and switching up the arrangement until we have a final product. It's been super fun to watch each one come together, and in the future, we have been talking about trying out new approaches to the writing process to switch things up a bit. The writing process is one of my favorite parts of Seeing Double.
ZACH TORNCELLO: The previous songs have been majority written by Allie but we are working on writing in a way that can take some of everyone's ideas so we may be able to make songs faster and keep our release more consistent. Our process has worked so far but we are still learning and perfecting.
GOLDMINE: Where did the band record the three singles that have been released thus far?
ZACH TORNCELLO: We recorded "Leah" and "Don't Wait" at our school's studio. "Take It or Leave It," we recorded drums at school but recorded guitar in mine and Mike's dorm, bass in Allie's room and vocals in a closet. With "Bygones," we again recorded drums at school but recorded guitars and bass in my home DIY studio in my basement and vocals at Mike's house.
GOLDMINE: What does it mean to each of you to see the audience having a great time at your live gigs?
ALLIE SANDT: There is nothing like it. When we played at The Mercury Lounge this past summer it was our craziest crowd yet and the five of us walked away ecstatic. I wish I could express how much I appreciate how each person took the time to free up their night, buy a ticket and show up! I couldn't believe they were all there for us.
ALI MCQUEENEY: The feeling of being on stage is like no other and I'm so glad I get to experience it. It means so much to all of us that people come out and see us and take the time to listen to our songs, watch us perform and have a good time with us!
MIKE AARON: I will never get over watching a crowd of people dancing and singing along to our music. I'm so blessed and grateful to be a part of it!
ZACH TORNCELLO: It's such a bizarre concept to me that I can be a part of something that means so much to some people. I love to see the joy of people recognizing a song and dancing to it.
DYLAN TRAVISON: It honestly means everything to me. Going to concerts and being a part of that crowd is one of my favorite things in the world, so being able to go on stage and connect with the audience through my own music is something that I can't even put into words. I feel most comfortable and happy when I'm on stage behind my drums, it's where I'm in my element. I'm extremely fortunate to be able to share that with my bandmates and with the audience.
"Leah" can be heard below:
"Don't Stop" can be heard below:
"Take It or Leave It" can be heard below:
"Bygones" can be heard below:
Goldmine's review of Seeing Double's show on Saturday, June 4, 2022 at The Bitter End in New York City can be read at https://www.goldminemag.com/reviews/up-and-comers-seeing-double-perform-to-enthusiastic-crowd-in-live-nyc-debut.