From January 29 to March 25, the university is participating in the Campus Race to Zero Waste, a national competition of colleges and universities from the United States and Canada. The goal of the contest is simple: increase campus recycling, composting and reduce waste while raising awareness, with just a bit of competition and swagger at stake between campuses!
Each week, the university will report its amount of recycling, trash, and compost. Campuses are ranked based on who recycles the most per capita, which schools have the best recycling rate as a percentage of total waste, and which schools generate the least trash and recycling.
In total, last year's participants helped divert nearly 28 million pounds of waste from the landfill/incinerator. Syracuse University works with the Onondaga County Resource Recovery Agency (OCRRA) and Syracuse Haulers to collect, weigh, report, and dispose of all waste. In 2022, Syracuse ranked 16th out of 103 in the food category and 37th in the diversion category.
Participation helps the university earn recognition for campus engagement in the STARS (Sustainability Tracking, Assessment and Rating System) report. STARS is a reporting system that universities and colleges can use to measure their sustainability performance. Syracuse is currently STARS Silver rated and progress is being made towards Gold or Platinum level in the years to come.
The winners of the competition will be announced on April 28th. The winning schools will receive an award made from recyclable material and the right to host that category's special walking trophy for the coming year.
Throughout the eight weeks, look out for digital signs throughout campus explaining how to properly dispose of trash, recycling, and leftover food.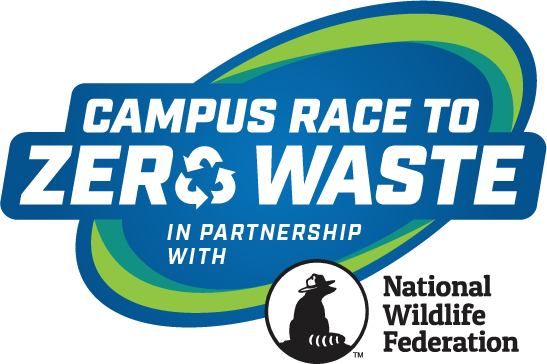 Go to sustainability.syracuse.edu and click on "Recycle and Reduce Waste" in the Sustainable Campus section for more information on what counts as recyclable, compostable, or trash.
Follow @SustainableSU on Facebook, Twitter and Instagram to learn more and keep up with the competition. Links can be found on the sustainability website.
The National Wildlife Federation administers the Campus Race to Zero Waste program. To learn more, visit campusracetozerowaste.org.