One of David Tate's first memories of Syracuse football is what has endedeared the team to him the most. Entering into the program as a freshman in 1972, Tate says coach Ben Schwartzwalder's first direction to the newcomers wasn't on how they played, but rather how they looked.
"During a time when everyone wore long hair, [Schwartzwalder] decided to cut all our hair off on the first day," Tate says. "We were buzzed to the scalp. We all looked odd, but we all looked the same."
The uniformity that Schwartzwalder imposed upon the freshman class instilled the importance of unity within Tate, both on and off the field. Tate, who played for the Orange from 1972 to 1976, now aims to grow that unity within the Syracuse football alumni and make its brotherhood stronger than ever.
Tate, the founder and CEO of Healthgram, has pledged $1 million to the first phase of transforming Manley Field House into the John A. Lally Athletics Complex, a state-of-the-art academic and athletics village that will benefit all student-athletes .
"David's generosity and commitment to our football program is inspiring and motivating," says Athletics Director John Wildhack. "It also reflects his deep commitment to unite our football alumni from all eras to support Head Football Coach Dino Babers and our current program."
The project's first phase began in April and includes a new and expanded entryway into the John A. Lally Athletics Complex. Additional renovations of phase 1 include an expanded Football Operations Center and a renovated Olympics Sports Center, which will feature new sport medicine, training, cafeteria and lounge spaces. These renovations are contingent on philanthropy being secured.
Tate's donation is his first to Syracuse University, and he believes it is important to give back after all the University has given him.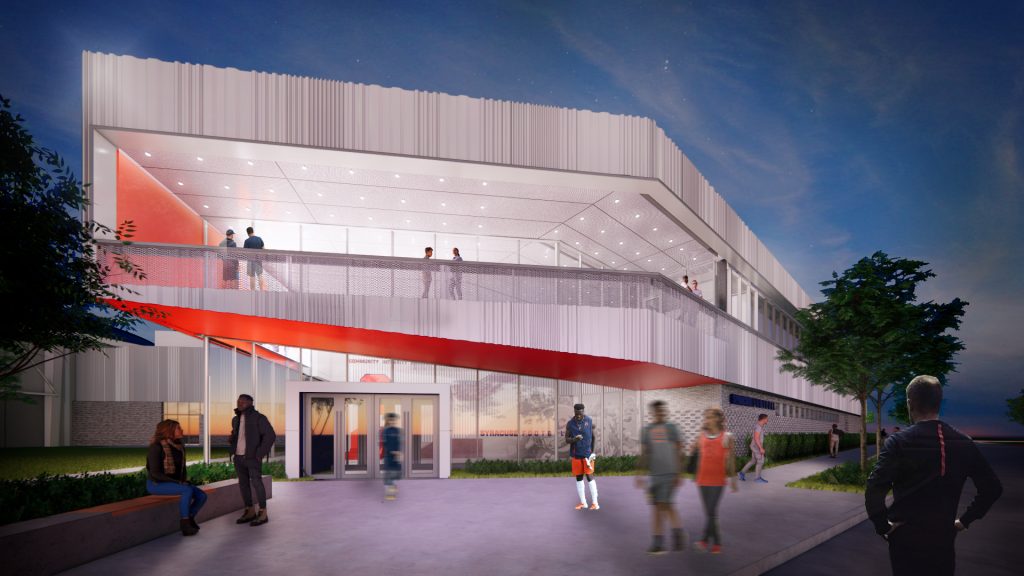 "I got the chance to play at Syracuse, and going there improved the way I feel about myself, what I have learned and what I now know," Tate says. "From there, I grew a business, and from there, I now have the ability to come back to Syracuse and say thank you and help others do the same."
Tate's pledge will be directed toward the renovation of the Football Team Lounge and Football Operations Center, which he declined individual naming recognition for in favor of naming the area "Unity Hall." In doing so, Tate wants to recognize the congregation of the Syracuse football alumni and unite the various eras as one.
"I don't want my name on anything because it's not about me, it's about all of us," Tate says. "I've met a lot of amazing guys from my time playing, and this is a reason for us just to come together."
Tate hopes that his leadership will inspire other Syracuse football alumni to come together, which is why in addition to his gift, he has spearheaded a challenge that aims to promote the active engagement of program alumni in supporting the future of Syracuse football. By joining the Unity Challenge, alumni commit to becoming more involved with the current program through the mentorship of current student-athletes, participation at events sponsored by Syracuse Athletics, purchase of tickets and/or private philanthropic support.
"Our Syracuse football family is grateful to David for his generosity in support of the new facility and the future of our program. His impact goes far beyond his recent donation. The leadership he brings to the Unity Challenge will inspire fellow letterwinners to come together and help us bridge the gap between the past, present and future of Syracuse football. We're excited for what's to come," says Coach Babers.
The Alumni Unity Challenge will run through Nov. 12. All funds generated as a part of this challenge will go towards the John A. Lally Athletics Complex/Football Operations Center development unless directed otherwise.
"I wanted my donation to be more of a unified pledge," Tate says.. "My contribution was to kick start players coming together, and we hope everyone rallies behind this mission."
As Tate joins the effort to create the John A. Lally Athletics Complex, he is incredibly grateful to have the opportunity to give back to his university. Growing up in Pittsburgh, Pennsylvania, Tate's father owned and managed a bakery, which Tate's brother, Bob, still operates today. The eldest of eight children, Tate's only opportunity to go to college was through a football scholarship. Bob joined the Syracuse football program two years after David as a walk-on and later earned a scholarship as well.
"I care about the University because of what it did for me and the opportunity it gave my brother," Tate says. "It gave us a chance that we wouldn't have had otherwise."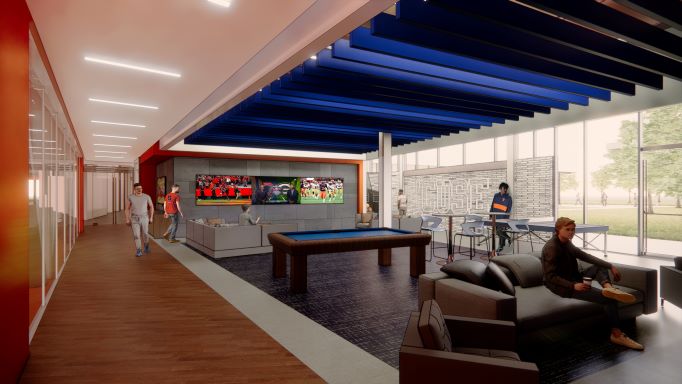 However, David and Bob are just a piece of the Tate football legacy. The brothers' father and their three uncles all played Division I football and earned their way into college through athletic scholarships as well. David and Bob's uncle, Bill Tate, became the head coach of Wake Forest in 1964 and headed an effort to integrate collegiate athletics in the south by recruiting Bob Grant and Butch Henry, two black student-athletes, to play for the university.
Given his family history of fighting division, Tate deeply values ​​unity and believes it has the utmost importance in football and life. As Tate focuses on unifying his fellow alumni through the Unity Challenge, he draws parallels in his efforts and playing the sport he loves.
"There isn't one athlete that can walk out on a field and single-handedly defeat a team of 11," Tate says. "It takes a team. If a team isn't together, if a team is not unified, if there's not a common belief and goal, you don't even have a chance of winning."
The completion of the upgraded facilities at the John A. Lally Athletics Complex are the first steps in an exciting future for Syracuse football. These facilities will enhance the experience for players and staff alike, and bring the team and alumni closer as one. In doing so, Tate believes that the team will have a better chance to succeed on the field and at Syracuse University.
"To compete at the highest level, you have to have the best facilities, so it's great that Syracuse has made the commitment to improve theirs," Tate says. "We've had amazing players at this school, and I think our history speaks for itself. Hopefully, this project will bring more players like them to Syracuse.
About Syracuse University
Syracuse University is a private research university that advances knowledge across disciplines to drive breakthrough discoveries and breakout leadership. Our collection of 13 schools and colleges with over 200 customizable majors closes the gap between education and action, so students can take on the world. In and beyond the classroom, we connect people, perspectives and practices to solve interconnected challenges with interdisciplinary approaches. Together, we're a powerful community that moves ideas, individuals and impact beyond what's possible.
About Forever Orange: The Campaign for Syracuse University
Orange isn't just our color. It's our promise to leave the world better than we found it. Forever Orange: The Campaign for Syracuse University is poised to do just that. Fueled by 150 years of fearless firsts, together we can enhance academic excellence, transform the student experience and expand unique opportunities for learning and growth. Forever Orange endeavors to raise $1.5 billion in philanthropic support, inspire 125,000 individual donors to participate in the campaign, and actively engage one in five alumni in the life of the University. Now is the time to show the world what Orange can do. Visit foreverorange.syr.edu to learn more.