Sydney Johnson was born breech, played rugby at Dartmouth College and landed a spot in medical school two years ago in her hometown.
She figured she'd sleep through most of her first bout of Covid-19 last August, less than a week after starting her second year of medical studies at the University at Buffalo.
Yet, after five days in quarantine, she stood in her upstairs bedroom unable to tie her bathrobe.
"When my mom was telling me to come downstairs, I was feeling clumsy, like a baby giraffe stumbling around my room," she said.
The next several days became a blur. Johnson suffered a stroke that would have killed her if not for a surgical team connected with her medical school.
"If we weren't able to get her clots, she wouldn't be here today," said Dr. Elad Levy, who led the hourlong procedure at Gates Vascular Institute.
People are also reading…
While rare, stroke is among risks for those infected with the virus that causes Covid-19.
Dr. Elad Levy, co-director of the Stroke Care Center at Gates Vascular Institute, practices on a surgical simulator that sits above the GVI in the Jacobs Institute on the Buffalo Niagara Medical Campus. Levy and Dr. Nick Hopkins, both internationally known neurosurgeons, helped create national protocols to treat those suspected of having Covid-19 who need emergency care for stroke. 


Buffalo News file photo


The Gates stroke center, one of the top endovascular centers in the world, treated one or two stroke patients in their 50s and 60s with Covid-19 each week during the first months of the pandemic, before vaccines were developed and treatments improved. Strokes at those ages are far less common than for older patients, said Levy, co-director of the center and chair of the Department of Neurosurgery in the UB Jacobs School of Medicine and Biomedical Sciences.
Johnson, 24, is one of two women in their mid-20s who suffered strokes in Buffalo during the same week while battling Covid-19, a phenomenon far more unusual.
"Who knows how much worse this could have been had I not been vaccinated," said Johnson, who was immunized and boosted by the time she got infected.
Levy and Dr. L. Nelson Hopkins, who spearheaded development of the Gates Vascular Institute, are part of an international team of doctors who have studied the Covid-blood clot phenomenon since early 2020. The team worked to better understand the connection, as well as how to best treat it.
"We're learning that sometimes with Covid, the blood clots differently," Levy said. "The clots are stickier. They're more unforgiving."
Nahkema Clay, left, a nurse, says she was determined to help her daughter, Sydney Johnson, recover from surgery and get back to medical school at the University at Buffalo. 


Derek Gee/Buffalo News


Johnson, a Buffalo native, and her twin sister, Maya, were born one month early at Sisters of Charity Hospital in March 1998. Maya arrived safely but Johnson struggled to breathe after an obstetrician delivered her naturally, bottom first. Her mother, Nahkema Clay, hemorrhaged during delivery. The newborn spent her first six days in the hospital.
The birth story fascinated Johnson, who grew up in good health and took an interest in medicine while at City Honors High School.
She landed a scholarship to Dartmouth, joined the rugby team and majored in biology. The pandemic struck during her senior year, so she took spring semester classes and graduated online from the West Side home she shares with her mom and youngest sister, Dakota, 17.
Johnson applied to two dozen medical schools and got accepted by her top choice: the UB Jacobs School. It allowed her to continue to live at home.
"I know that the lights will be on when I come back from class," she said. "Some home-cooked meals are a nice little added touch. It took a lot of pressure off having to balance those things, so my focus could be all on school."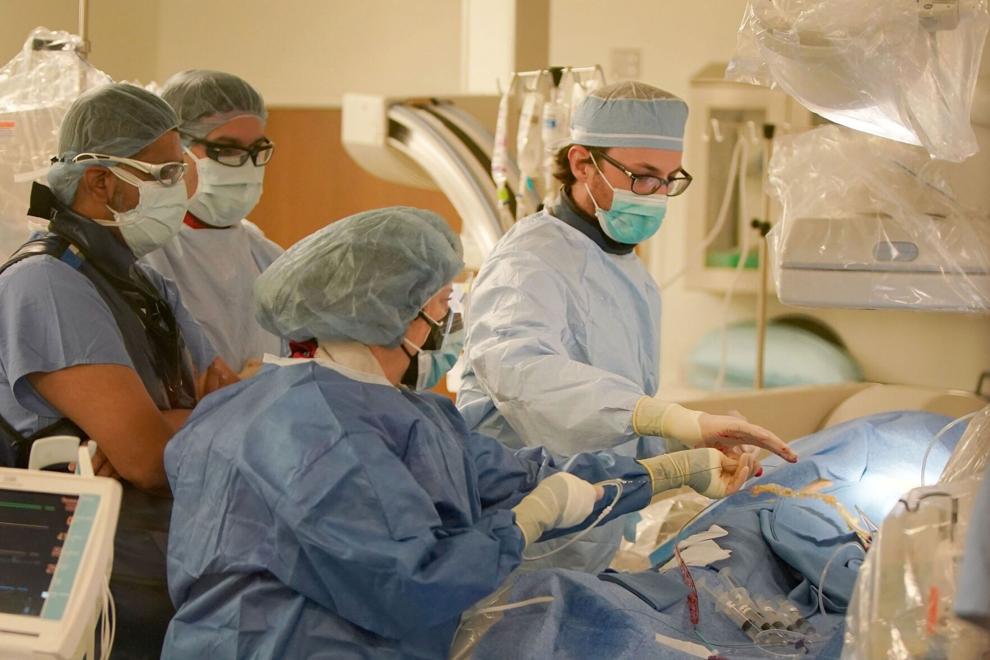 This day, a surgical team worked seamlessly to monitor her vital signs and feather a medical device through a catheter into the left side of her damaged heart. The procedure slowed her heartrate so her organs could take a couple of days to re-collect themselves and give her a fighting chance to recover.
Johnson leaped right into her second year. She got infected the first week back. By late that week, her fatigue intensified, but she chalked it up to a demanding schedule that started early mornings with cardiac classwork. Then her back started aching. A sore throat came next, followed by a cough and fever.
She tested positive on Tuesday, Aug. 9. She emailed her teacher to say she would need to miss an exam that Friday, but expected to be back that Monday after her quarantine.
Two days of sleep helped but then she suffered a migraine headache. This was common in her teens, so she thought she'd sleep that off, too.
Her mother, who completed her nursing degree while her twin daughters were high school freshmen, checked on her daughter regularly, bringing oatmeal and sports drinks and monitoring her condition. At one point, Johnson told Clay the fingers on her left hand tingled, but she'd been sleeping on them a lot.
"That's odd," her mother thought.
On Sunday night, her daughter seemed worse. She considered calling a hospital emergency room but thought that because Johnson's breathing was fine, staff would recommend she stay home. 
Johnson's headache never went away. After four days in her room, her mother suggested she get some fresh air on the porch. Johnson rescheduled her exam to Wednesday.
Then things went south – quickly.
Clay was surprised when Johnson came downstairs with an open robe. "I said to myself, 'Something is wrong with her,' " Clay recalled, wiping away tears.
She grew more concerned when Johnson couldn't cinch the sash to tighten her robe and began to stumble.
Clay walked outside to call her boss. "My daughter just had a stroke," she said, then drove her daughter to the hospital.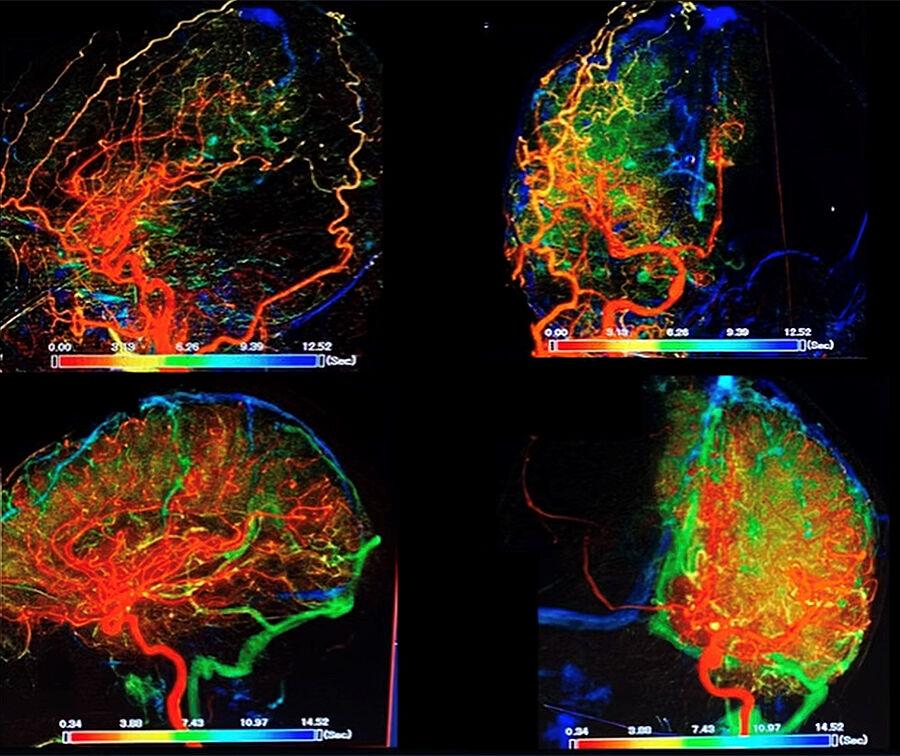 These images show the arteries (red) and veins (green) in the brain of Sydney Johnson before surgery at top, where the arteries are the dominant color but the veins are hard to see because they are so severely occluded by brain bleeding. After surgery, bottom images, the veins are not occluded and easy to see. 


Images provided by UB Neurosurgery


Johnson had two risk factors for a more serious case of Covid-19.
She was genetically predisposed to sickle cell anemia, an inherited group of disorders that produce sickle-shaped red blood cells that don't move as well through the bloodstream as more typical red blood cells, which are round and more flexible.
She also was on a birth control pill.
As with Covid-19, both raise the risk for blood clots. 
The stroke team at Gates saw troubling stroke symptoms. Johnson could only lift her left arm to shoulder height while laying down. She couldn't lift her left leg at all. She miscounted the number of fingers health care providers raised inside the fringes of what should have been her normal field of vision.
Stroke team members ordered neurological scans, moved Johnson to intensive care and told her mother that family members might not be able to see her for 10 days. 
The team diagnosed cerebral venous sinus thrombosis, or CVST, in which blood clots form in the brain's venous sinuses, preventing blood from draining out of the brain. Potentially fatal brain bleeding and swelling result.
This kind of stroke differs – and tends to be more dangerous – than more transient strokes that slow or clog circulation in arteries in the brain, causing arm or leg weakness, confusion and slurred speech. When minor, this kind of stroke can clear on its own, with symptoms stopping if circulation returns quickly, "but it's a foreboding sign that there's something going on and it's a risk for having a bigger stroke down the line," said Dr. Rosalind Lai, a UB Neurosurgery fellow.
"The next time the tissue may not recover and it may cause permanent damage," Lai said.  
A stroke in the deep veins of the brain, like the one Johnson suffered, behaves differently, said Lai, who helped treat Johnson, including with surgery. Several clots can develop, as was the case with Johnson, and bleeding on the brain can cause blurred vision as well as traditional stroke symptoms.
It's important that those with stroke symptoms that persist for more than a few minutes get checked out as soon as possible, Lai said. Even if they ease quickly, she said, it's still a good idea to contact your primary care provider.
Emergency room providers or neurosurgeons order a CT scan when they suspect a stroke, to learn where it occurred and how much damage it has caused.
Treatment starts with blood thinners, and monitoring symptoms and vital signs.
Johnson underwent surgery about 24 hours after arrival, when her condition took a turn for the worse.
The procedure might not have been an option a decade ago. The protocol was improved at Gates Vascular Institute and elsewhere, but still carries risks.
"There's still active research into when and how it can be helpful for patients," Lai said.
Gates Vascular Institute specialists have treated about 20 stroke cases where blockages occur in many – or sometimes all – of the major veins of the brain. Some patients were otherwise healthy young people, including Johnson.
The procedure involves inserting a catheter into the venous system through the groin or right arm and feathering tiny medical devices into the damaged area to bust and suck out clots, reopen vessels and repair damage. Stents often are inserted to better assure future blood flow.
Medical researchers at Gates Vascular Institute, the Jacobs Institute and the UB Clinical and Translational Research Center helped pioneer the techniques used in Johnson's surgery, as well as design and improve the medical devices used. All three are in the same building on the Buffalo Niagara Medical Campus.
"The technology is evolving, so now we can get bigger tubes farther and deeper into the brain," Levy said.
The latest catheters used to suck out clots – some as wide as a marker – are more powerful and up to twice the diameter as previous devices.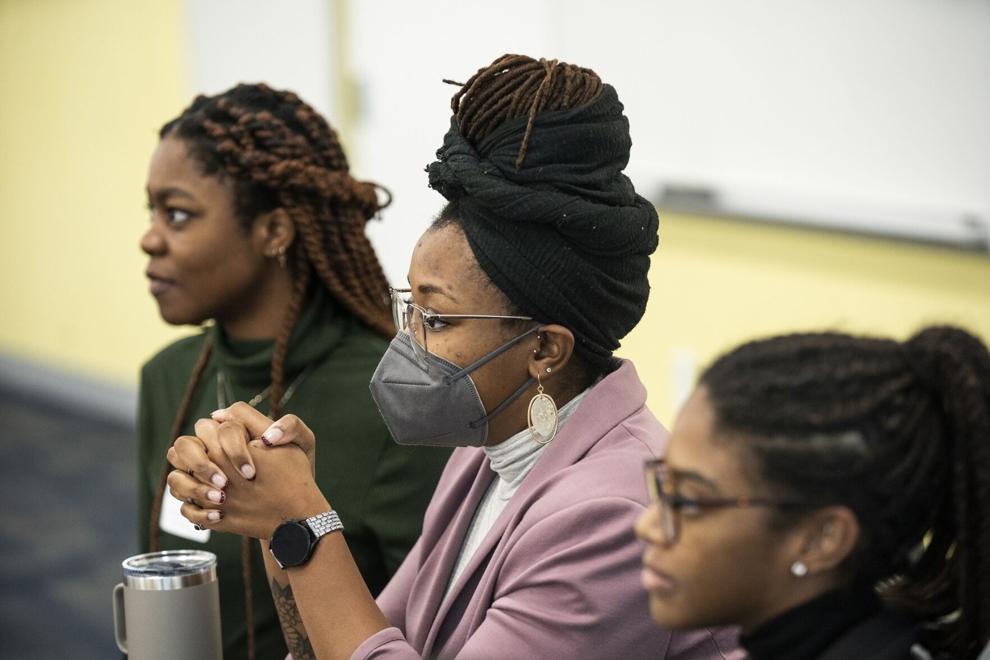 Sydney Johnson, center, sits with her friends Ifeoma Ezeilo, left, and Katherine Foote, in October, during an "Rx for Success: Preparing for Medical School" program at the University at Buffalo Jacobs School of Medicine and Biomedical Sciences. A stroke and her recovery forced her to take a one-year leave.


Libby March/Buffalo News


Clay used cookies and Johnson's father, LeVar Johnson, wore his city firefighter's uniform to the hospital in a successful effort to stay in the surgical waiting room during their daughter's procedure.
The surgery went as planned, Levy told the parents, but they also learned that she still wasn't out of the woods.
"Not knowing how things would go was agonizing," Clay said.
She told Johnson's father, "I don't care if it takes her six months to get better or 60 years, I just need my daughter to survive this. If she comes home and she's in a wheelchair, Sydney's going back to medical school. I will do anything in my power to make sure."
Johnson regained movement in her left side within hours. Four days later, she went home.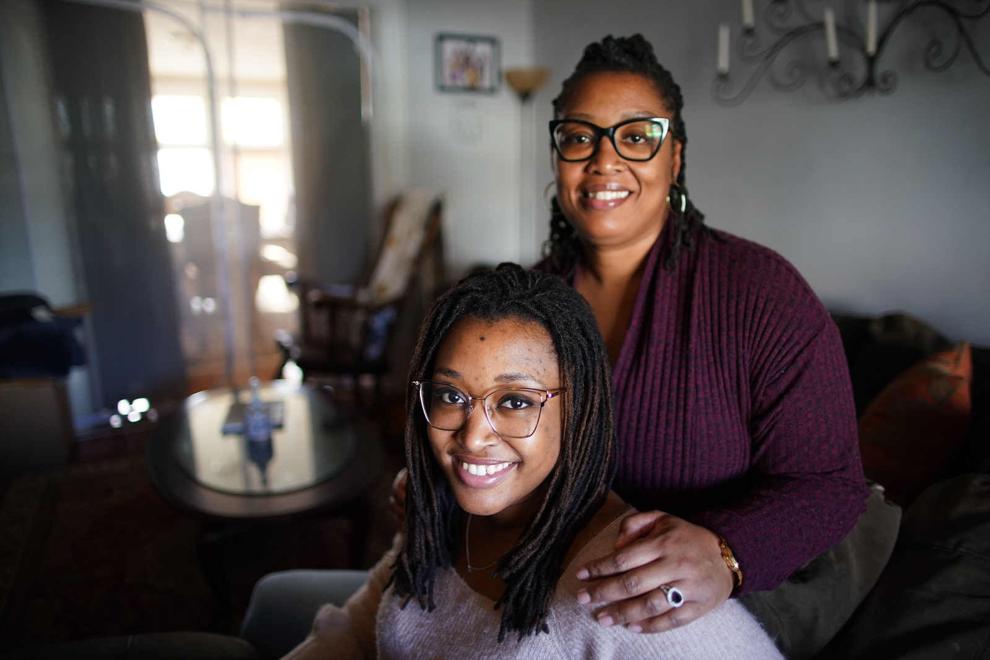 Sydney Johnson, seated, of Buffalo, has recovered from surgery after a stroke in August and is grateful for the care she has received from her mother, Nahkema Clay, during her recovery.


Derek Gee/Buffalo News


Physical and occupational therapy helped improve her fine motor skills. Her left eye drooped for a few months but her vision has fully returned. Johnson sees a counselor to process what happened, but otherwise has fully recovered.
Her stroke team, which took an aggressive approach to address the damage they saw on the right side of Johnson's brain, was heartened by the outcome.
"Our patients are usually much older and may have comorbidities," Lai said. "Being young and healthy makes a huge difference with recovery. Her long-term prognosis is great and she's recovering very well."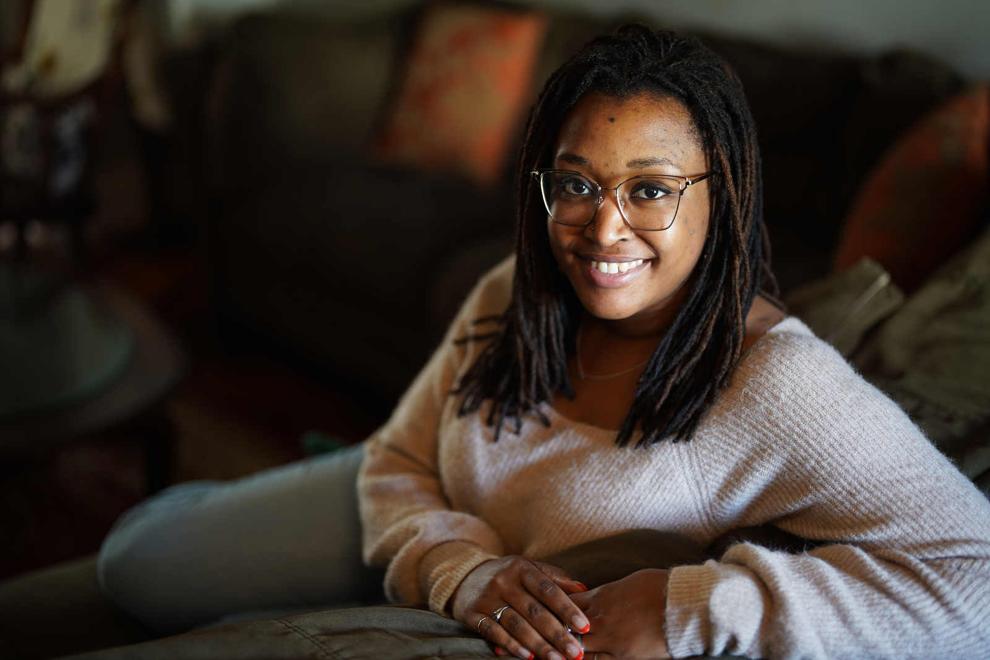 Sydney Johnson, a 24-year-old University at Buffalo medical school student, says she learned lessons that will make her a better doctor after she suffered a stroke in August while battling Covid-19. 


Derek Gee/Buffalo News


Johnson fell behind her medical school studies during the first weeks of recovery, an absence impossible to make up because classmates focus together on the same subjects at the same time. The medical school has 720 students. No more than three or four take a leave of absence each year, and very rarely for something as severe as a major stroke, said Dr. David Milling, executive director for the Office of Medical Education and senior associate dean for student and academic affairs at the Jacobs School.
Between semesters last summer, Johnson was among students who worked with the Department of Surgery on research to discover how health disparities effect patient outcomes in the region. Milling arranged for Johnson to resume that work as she continues her medical leave.
"In addition to being a good student academically, she's also community-minded," said Milling, an internist and Jacobs School alumnus. "She's an amazing young woman, and she's going to be a great doctor."
Johnson is grateful she will be able to resume her studies next summer. She's leaning toward a career in obstetrics, and has a greater interest in surgery.
Meanwhile, she has learned lessons through her ordeal that she believes will make her a better doctor.
"There is a lot of fear associated with being sick and in the hospital," Johnson said. "As doctors and doctors-in-training, we need to be aware and compassionate towards the patient and their situation – especially with Covid. There are a lot of people going through their illnesses alone and you may be all they have."
The Buffalo News: Good Morning, Buffalo
The smart way to start your day. We sift through all the news to give you a concise, informative look at the top headlines and must-read stories every weekday.