CINCINNATI — In the first 15 games of this season, as they rebounded from a 2-3 start, the Cincinnati Bengals' decision to allocate large resources to offense proved wise.
In response to quarterback Joe Burrow being fired a total of 70 times during the 2021 regular season and playoffs (third most since Sacks became a statistic in 1982), the Bengals responded by signing free agent right tackle La'el Collins, center Ted Karras and right guard Alex Cappa and left guard Cordell Volson's draft in the fourth round.
The group had what the Buffalo Bills were looking for all season – continuity.
Until the Bengals didn't.
* Week 16 in New England: Collins suffered a cruciate ligament rupture at the end of the season.
* Week 18 vs Baltimore: Cappa retired with an ankle injury.
People also read…
* Week 19 vs. Baltimore (wild card game): Left tackle Jonah Williams dislocated a kneecap.
The Buffalo Bills' veteran tight end caught fire at just the right time for an offense that hasn't always had a reliable second option to Stefon Diggs in the passing game this season.
The injuries left Karras and Volson as the only remaining starters going into Sunday's AFC divisional round game against the Bills.
Cappa and Williams did not practice this week and were ruled out by coach Zac Taylor on Friday. Cornerback Tre Flowers (hamstring) is listed as doubtful.
The Bengals are expected to start (left to right): left tackle Jackson Carman, Volson, Karras, right guard Max Scharping and right tackle Hakeem Adeniji.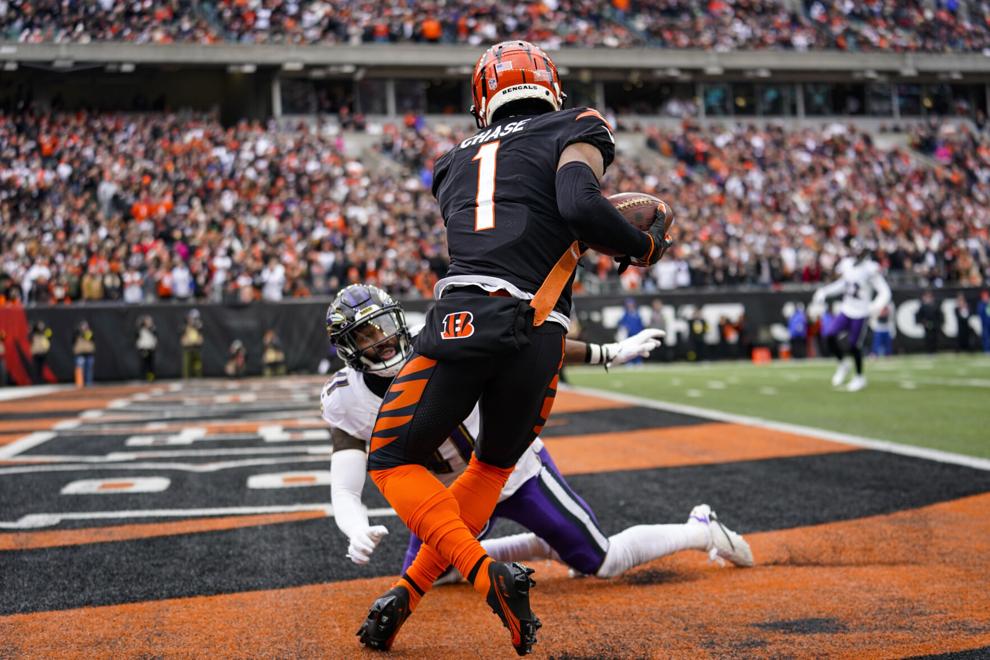 "Rally to the ball" is a mantra that takes on additional meaning this week as the Buffalo Bills prepare to face the Cincinnati Bengals' deadly wide receiving corps.
Carman started in four games last year but lost a match at training camp to Volson and hadn't played any snaps in tackle until last week. … Scharping, a former Houston regular who had played 30 offensive snaps in the regular season. … Adeniji started 2020-21 in 14 games for the Bengals but had only played 90 snaps at the time of Collins' injury that season. … Volson played all 1,107 offensive snaps and Karras has 1,000 snaps.
"I wouldn't say it's overly disrupted," offensive coordinator Brian Callahan said of the changes. "These (fill-in) guys know what we do and how we do it. … It's not Week 10. It's the divisional round and we expect these guys to play well.
"The kid gloves have come off to a certain extent. These guys need to come and play."
So the Bengals won't be watering down their offensive game plan to accommodate the changes?
"No," Callahan said. "We have to play the football that will help us win. The Silent (Snap) Count is part of this. (Buffalo) does a really good job of descending with the cadence at home – you can see it on the tape. It's going to be loud and in a great environment, but we have to be able to play with the new tracks as well."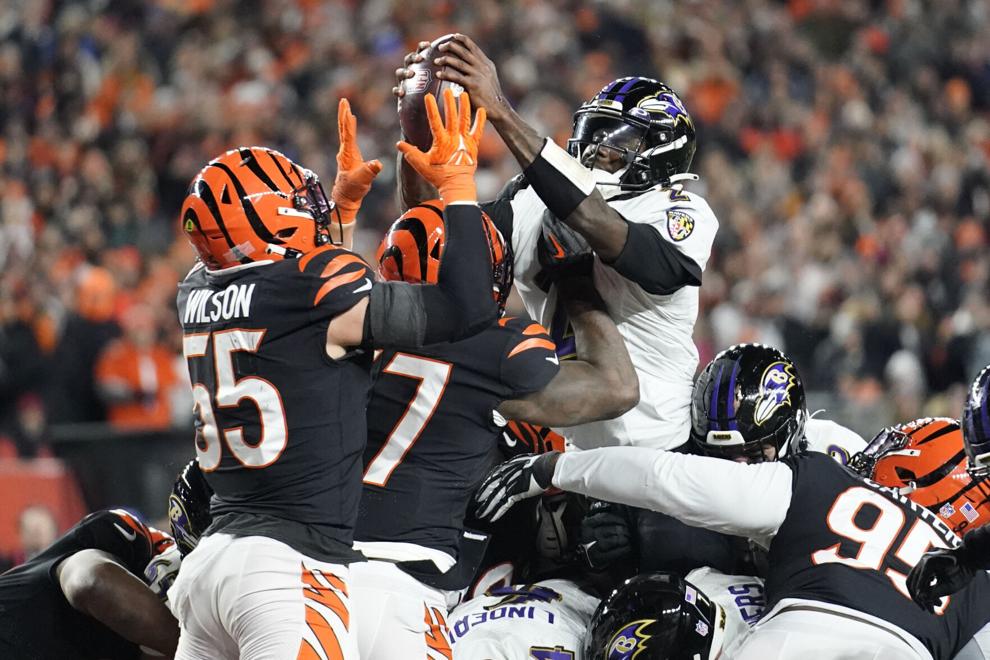 Cincinnati linebacker Logan Wilson has taken his game to a new level this year and is a major challenge for the Buffalo Bills offense. He led the team with 123 tackles in the regular season and had 10 in a wild card game against the Baltimore Ravens.
Burrow has been sacked 45 times in 17 games this season, including four times against the Ravens last week. A review of the video by The Buffalo News booked solo sacks that Adeniji (to Justin Houston), Williams (to Odafe Oweh when Williams fell), Carman (to Tyus Bowser), and a team sack (created when he Joe Mixon ran back). allows one print).
On the bright side, the Bengals had three practice sessions this week out of the projected five.
"It was just great to get that chemistry," Volson told The News. "It was really important to be out there and communicate with each other because these five haven't played together before. But we feel good and comfortable and ready to go."
Where the protection has to withstand is in the red zone. The Bills' defense ranked second in touchdown percentage (44.9%) during the regular season, and Miami was 2 of 4, gaining just 15 yards on seven snaps.
"(The Bills) do a good job of mixing coverage," Callahan said. "They have a mix of things that they play really well. When preparing to play against a team, a defense often plays a thing or two in the red zone that you can really dial into. (The Bills) have enough variations that it's hard to know exactly what you're going to get. And they do a good job of stopping the run in the red zone as well."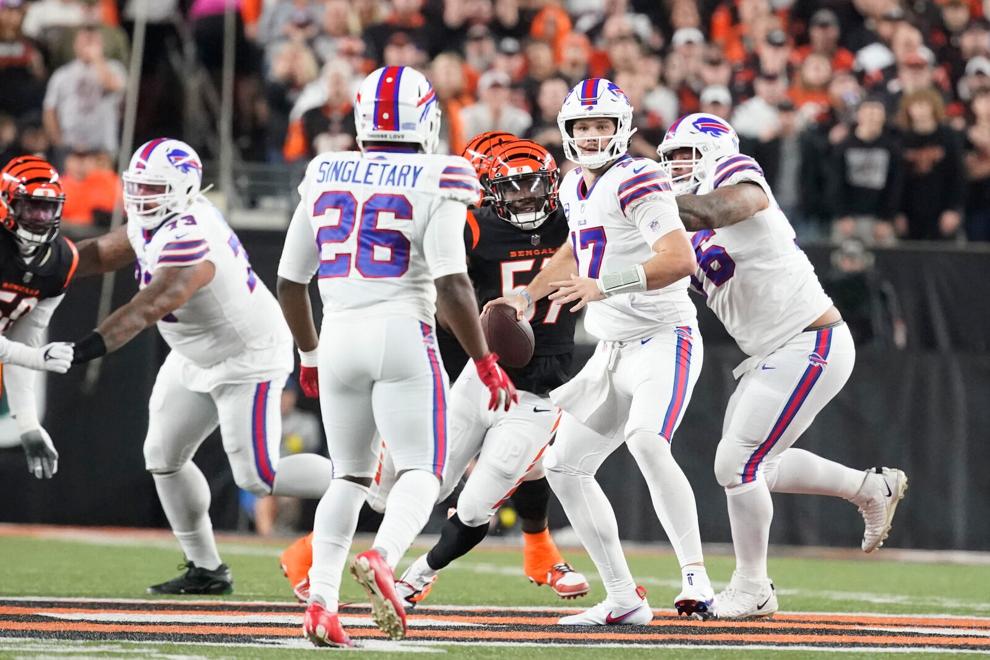 Don't miss The Buffalo News' selection of Jay Skurski, Katherine Fitzgerald, Mark Gaughan and Ryan O'Halloran as the Buffalo Bills prepare to face the Cincinnati Bengals in an AFC division playoff game.
The Bengals' offense was 37 of 48 (64.9%, 5th best) in the red zone during the regular season and 2 of 2 against the Ravens.
Burrow caught a red zone this year.
"He has a great understanding, situationally, of when it's time to put it in there and when it's time to be more conservative, when it's time to use his legs and extend the game or when throwing it away." Quarterbacks coach Dan Pitcher told The News. "You get down there, the field is shrinking, the windows are getting smaller and it's all about finding your best matchup and then making really good decisions and I think as he's grown and played more and more he's had all of those things done well."
[BN] Daily lightning updates
Feed your obsession. Start each morning with a guide to the latest One Bills Drive news and stay up to date with what's going on elsewhere in the NFL.