We were a community bonded by our tears. Tears from Buffalo Bills players who felt more than we could feel, and who could see what we could not.
Tears from television commentators, who tried to hide them, not out of shame, but duty: They had to give thought to the unthinkable, and lend words to the unspeakable. Tears do not help.
Even in the toughest of times, Bills football is defined by cheers, not tears. But this was tougher than the toughest of times.
Over this hellish last year, Western New Yorkers have endured deep and tragic loss: A mass shooting by a racist terrorist who targeted Black people and murdered 10. A blizzard with a death toll of 44. A fire on New Year's Eve that killed five children. Many are still reeling from the Covid-19 pandemic, from personal stresses, invisible pains.
People are also reading…
And then, Monday. Damar Hamlin, a young, strong football player – a man with a warm smile who charms his Bills teammates by forming his fingers into the shape of a heart – falls to the turf, his heart silent.
The Bills have nearly 80 players under contract (active roster, practice squad and injured reserve), which means they had nearly 80 different ways to cope, all the while getting ready to play the same game.
Catastrophe begs for heroism, and it arrived in the form of medical teams who worked to save his life. Heroes create an opportunity for a happily-ever-after, and Hamlin's path seems to be heading that way.
"We kept getting hit and hit and hit," said Karl Shallowhorn, a 60-year-old Bills fan whose early memories of the team date to O.J. Simpson's still-glorious days.
Shallowhorn, a who is director of youth programs for Mental Health Advocates of Western New York, invokes a word used frequently in his field: resilience. The ability to keep coming back from diversity.
"We keep doing that time and time again," he said. "It's like Rocky Balboa. You keep getting knocked down and you keep getting up. You stay in the ring. That's what we do."
On Sunday, the Bills players get back in the ring, which in this case is Highmark Stadium, for a game against the New England Patriots.
The rest of us? Our job is easier. We simply need to cheer.
But several days ago, when Hamlin's heart stopped while playing a game designed to entertain us, we stopped, too.
Football is our release. The sport represents our hopes for greatness; sometimes, it's even our lifeline. But in those frightening moments, could we imagine cheering again?
…
In the first quarter of the Bills' Monday Night Football game against the Cincinnati Bengals, Hamlin, a second-year safety, collapsed after making a tackle. The seriousness of his injury wasn't immediately clear to those not on the field.
"I didn't think much of it," says Erin Watson, a 21-year-old from Buffalo who was in Cincinnati with seven friends from Western New York. They celebrated the New Year holiday and bought tickets in an upper corner of Paycor Stadium. From those seats, "I couldn't see that he had stood up and then collapsed," Watson said.
As trainers from both teams gathered around Hamlin, players ultimately encircled them. Television cameras captured the Bills' brightest stars grappling with the darkest emotional moments: Quarterback Josh Allen clasped both hands over his face. Tears streamed down the cheeks of wide receiver Stefon Diggs. The stadium scoreboard showed none of this. As an ambulance arrived, silence fell.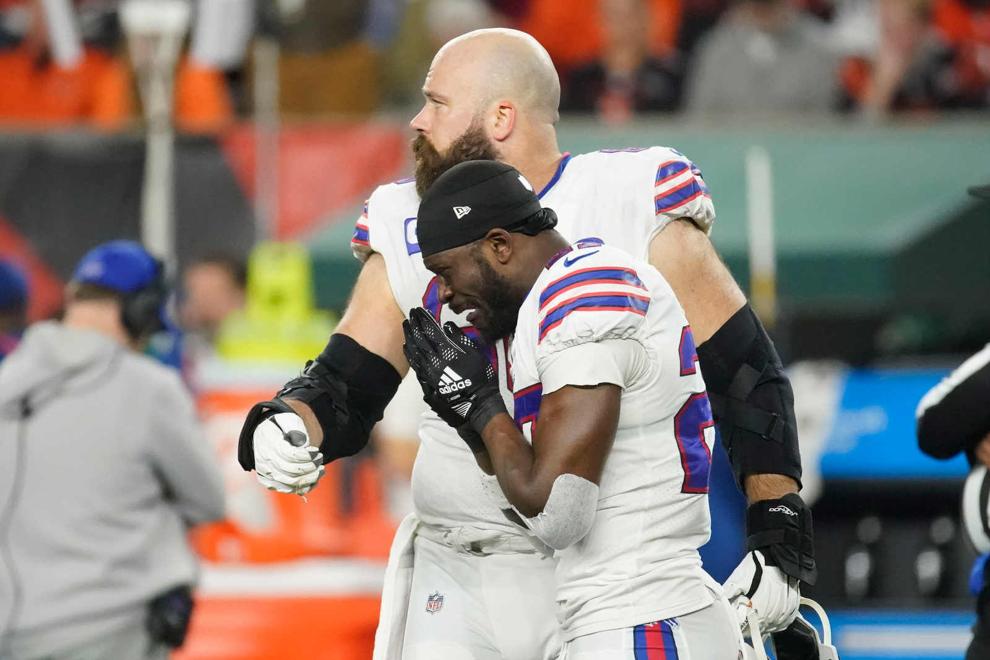 Buffalo Bills center Mitch Morse (60) and cornerback Tre'Davious White (27) react as medical personnel tend to Damar Hamlin after he collapsed on the field during the game against the Cincinnati Bengals at Paycor Stadium in Cincinnati, Monday, Jan. 2, 2023.


Harry Scull Jr./Buffalo News


"Many people in the crowd did not know what was happening," said Watson's friend, 21-year-old Zach Randall of Tonawanda. "All of my information came from family and friends texting me and Twitter. Once we realized CPR was being administered and all the players were crying, we knew this was like an injury we have never seen before."
While fans in the stadium sat quietly, and eventually stood to leave when the game was suspended, broadcasters on ABC and ESPN were attempting to make sense of the scene.
The right words were difficult to locate. Ryan Clark found them.
"You get to go home and be with your family," Clark told host Scott Van Pelt. "I'll get an opportunity to do the same. Damar Hamlin won't get to do that tonight. His mother will sleep in the hospital tonight, and she will wait the entire night to hear something positive about her son. And that's going to be her reality."
Clark, who played 13 years in the NFL as a safety, lived his own version of this reality. In 2007, while playing with the Pittsburgh Steelers in a road game in Denver, he felt a sharp pain on his left side. Clark is a carrier of the sickle cell anemia trait, which, combined with the Mile High City's thin air, affected his spleen. Quick medical attention saved his life, and his spleen and gall bladder were later removed. That was followed by a long, arduous recovery – one that informed his words that evening.
Clark spoke about how "extremely blessed" men like himself and Hamlin are for the opportunity to play football and make "all this money to play a game that they love."
"Tonight, Damar Hamlin is not a football player. Damar Hamlin is a man that's fighting for his life," he added. "Damar Hamlin is someone who couldn't breathe on his own in front of millions. I think we need to keep that perspective."
As Clark wrapped up his comments, Van Pelt thanked him. "You've said a lot of profound things, and I appreciate all of them," the host said, voicing a sentiment that was echoed throughout the evening and next day on social media. "I'm with you."
Later in the week, Clark's ESPN team reached out to the staff of Michael Rubin, the founder of the apparel company Fanatics, to secure a Bills jersey with Hamlin's number 3. He wore it on air.
"Getting an opportunity to be a part of the immediate broadcast afterwards was a blessing, for sure," Clark said in a Friday afternoon phone conversation. "But it was also difficult, because I was just with it emotionally, I would just say, in not the best of ways."
When the broadcast went to commercial and he had a few minutes off air, Clark cried.
…
Back in Western New York, Erin Watson's mother, JoAnn, was watching the game at Caputi's Sheridan Pub in the Town of Tonawanda. A season ticket holder since 1986, she began thinking about the 2007 Bills home game in which tight end Kevin Everett suffered a spinal cord injury that, for a time, paralyzed him.
"(I was) thinking about how badly this situation could go," JoAnn Watson said. "After that everything was in limbo, my thoughts and prayers were just with this person. It was a humbling experience, where you go to watch a game and then all of a sudden there is a person fighting for their life on the field."
Reactions to Hamlin's situation range by the individual. The most consistently intense responses in what mental health professionals refer to as an "acute trauma event" will likely come from the people closest to it, in this case, players on the field, coaches, team executives, and ultimately, Hamlin's family and closest friends.
But the strong responses aren't limited to that core group. Acute trauma events can be triggering to people who have experienced trauma in their own lives, and they can be frightening.
Damar Hamlin is a second-year NFL player who was relatively unknown compared to his more-famous teammates. But still, we feel a deep emotional connection. Why? We asked Jay Barnett, a former pro football player who is now a family therapist, speaker and author. Interview by Tim O'Shei.
Jay Barnett, a family therapist and former pro football player who spent a training camp with the Green Bay Packers and played for two Arena Football League teams, ticked off a lot of the injuries sports fans have become accustomed to seeing, from torn ligaments to broken bones.
"Those are things that you're familiar with that require ice. You may have to have some crutches or have someone walk you off," he said. "But you never think about CPR."
Imagine being a 12-year-old who's starting to play tackle football – or the parent of that adolescent. Would seeing that injury – rare as it is – give you pause to play football? To watch football?
"If you're talking to a kid, (ask), 'What was it about what you say that's leading you to feel a little bit anxious about watching on Sunday, or about stepping back onto the field yourself?' " said Marc Cormier, an associate professor of sport and exercise psychology at the University of Kentucky and director of counseling and performance psychology for UK Athletics. "We can't assume the events that caused us trauma are the same for others. Talking to them about what was traumatic, and why, is a good first step."
So much worked well in the aftermath of Hamlin's injury. The medical care he received saved his life. In his first few days at the University of Cincinnati Medical Center, Hamlin made astounding progress: By Wednesday night, he was alert and able to communicate in writing. He asked, "Who won the game?" He continued improving through Thursday, and by Friday his breathing tube was out. During that time, he presumably began to learn the depth of his own story, including the outpouring of fan support on GoFundMe for his toy drive, which originally aimed for $2,500 and now has more than $8 million.
Hamlin, still in the Cincinnati hospital, spoke briefly with his teammates by FaceTime, forming a heart with his hands and saying, "Love you boys!"
For some people, witnessing Damar Hamlin's injury can be jolting, triggering or evoke feelings of hesitation or fear. How can people best move forward? We asked Marc Cormier, an associate professor of sport and exercise psychology at the University of Kentucky and director of counseling and performance psychology for UK Athletics. Interview by Tim O'Shei.
…
Take it as a lesson, or even as a tip for moving through complicated, sorrowful emotions like the ones shared by Western New Yorkers this year through injury, catastrophe and tragedy.
The tears that flowed Monday night are drying. Bills General Manager Brandon Beane, who is staying in Cincinnati to be with Hamlin and his family, reflected on his visit to the hospital room once Hamlin was awake: "I'm not a crier, but man it was emotional. A lot of grown men in there crying yesterday."
Tears can help – and that includes men in football.
"Men getting more flexible in how we handle our emotions – in developing our toolkit – is good for everyone around us," said Michael E. Addis, a professor in the Department of Psychology at Clark University. "We become more available. Rather than us being withdrawn and grumpy, we become, potentially, people to connect with, and to get support from, and give support to."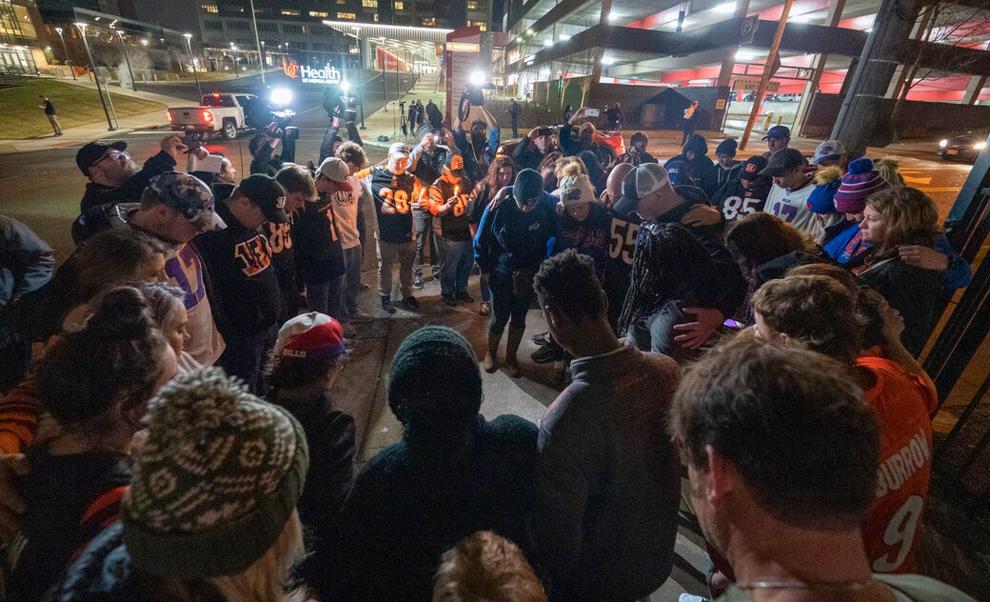 Buffalo Bills and Cincinnati Bengals fans gather in a circle and pray at University of Cincinnati Medical Center after Bills defensive back Damar Hamlin was injured against the Cincinnati Bengals during the first quarter at Paycor Stadium on Monday, Jan. 2, 2023.


Harry Scull Jr./Buffalo News


Addis, who studies emotional vulnerability and the cultural stigma associated with it, points to research that indicates men who are willing to be openly emotional have higher levels of social emotional intelligence and tend to be more effective leaders.
Addis, who watched the game Monday and then three hours of coverage focused on Hamlin's injury, said the sometimes raw and open emotions on display are an indication that "we are at a better place than we've ever been in terms of our ability to see men's vulnerability, and that's a good thing."
We're simultaneously seeing vulnerability and strength, which combined have created the opportunity for healing: For Hamlin, who has "many, many steps still ahead of him," said his physician, Dr. Timothy Pritts, division chief of general surgery at UCMC.
There is healing, too, for his teammates and coaches. "We got our boy, man," left tackle Dion Dawkins said after the FaceTime visit with Hamlin.
A beaming image of Hamlin went viral on Saturday after he posted a screenshot to his Instagram with a heart emoji and the words  "Back Working, Back Smiling!!!" 
"Putting love into the world comes back 3xs as much… thankful for everyone who has reached out and prayed," Hamlin tweeted. "This will make me stronger on the road to recovery, keep praying for me!"
The expression of healing for fans will be a collective one. It will come a few minutes before 1 p.m. Sunday at Highmark Stadium, when Hamlin's teammates thunder down the tunnel to the vocal embrace of the crowd.
The tears may come, but they will be the joyful kind. And it will be time to cheer again.
The Buffalo News: Good Morning, Buffalo
The smart way to start your day. We sift through all the news to give you a concise, informative look at the top headlines and must-read stories every weekday.